About Dating and Developing Long Term Relationships
With Single Women from Belarus, Latvia, Moldova, Russia or Ukraine
Before getting involved in the process of dating and developing relationships with Russian and Ukrainian women, it is important to understand that, in some respects, international dating have its distinctiveness from local dating, especially if the ladies that you are interested in live in the countries of Eastern Europe such as Belarus, Latvia, Moldova, Russia and Ukraine. P>
Even though that there are significant differences in terms of traditions, culture and character, topics that we develop more in our Russian Women of Character page and in our Blog, in this page here, we will discuss the legal and logistical aspects of international dating, specifically when dating with women living in the countries mentioned above.
Depending on your own country of residence and on the country where the lady resides, the legal aspects regarding visa and immigration procedures differ. It is therefore important to learn about it and the best place to do so is at the nearest embassy or consulate of the country you plan to travel. Ex; if you live in Canada and plan to travel to Ukraine, you should contact the nearest Ukrainian embassy or consulate from where you live. If the woman lives in Ukraine and plans to travel to Canada to visit you, she should contact the nearest Canadian embassy or consulate from where she lives.
Once you are familiar with the visa requirements and immigration procedures, you should also pay attention to geographical aspect. As we all know, Russia is a vast country, in fact the largest in the world. Nevertheless, Ukraine is also a vast country as it is the second largest country in Europe. So unless you have the time and financial resources to travel a lot, you should study the geography of these countries in order to focus on certain areas. Otherwise, you could be in communication with women who live thousands of kilometers away from each other.
The next Step is the Selection of Profiles that Meet your Criteria and Vice Versa
and to Begin Corresponding with these Women in a Effective Way
The selection of profiles is certainly one of the most crucial steps in this whole process. Although there are many factors to pay attention to when choosing specific profiles, we suggest paying a particular attention to the age and children aspects. It is very important to choose women who meet the age group you want and vice versa. You probably think that its basic common sense, but the fact is that many men tend to overlook this aspect, being attracted to pretty girls regardless of a too big age gap.
We believe that the question of children is probably the most important one :
Do you wish to begin a relationship with a woman who has children?
If that is the case or you don't mind it, then you have to think about how many children and in what age group?
The same questions for the woman: do you have children, how many and what age group?
Do you wish to have common children in the future? This one is very important aspect and it is not advisable to begin a relationship with a woman who wishes to have children if you are not 100% sure about it for yourself.
If the woman has children, does she plan to bring them with her when she joins you in your country?
And if that is the case, does she need written permission from their father to do so?
After that you have established which regions you want to travel to and that you have thought about the age and children factors, you should be ready to browse profiles and make an educated selection. Of course, there are many other aspects that are more or less important to everyone, such as physical appearance, profession, occupation, hobbies, sports, etc.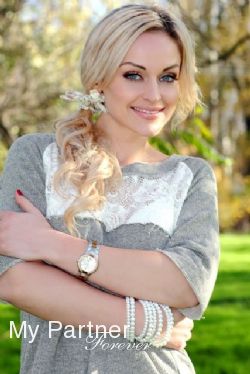 While beginning to correspond with the selected ladies who have shown an interest and replied you, we suggest that you put some emphasis on these subjects :
About your country; how much does she knows about it and what is her impressions of it? After all, you may ask her someday, in a not so far future, to join you in that country of yours.
Regarding the age gap; it is a known fact that Russian and Ukrainian women usually are comfortable with a bigger age gap than what we are used to in the West. And it can be tempting for many men to be in the company of a beautiful younger woman but we highly recommend to not overdo the age gap and to keep it at 15 years or less.
As mentioned previously, the question of children is probably the most important one. Even if the woman meets all other matching criteria and vice versa, if the children one does not – it is best to not chance it and keep searching for other candidates with who you share a common view on all important aspects.
Now that you made your selection of Russian and Ukrainian women with whom you share the important criteria, it is time to introduce yourself to them and start a correspondence with those who showed a genuine interest. So we will allow you to work on this exciting project and we sincerely hope that you will find your lovely wife using our dating site featuring single women from Belarus, Latvia, Moldova, Russia and Ukraine.